Walk In Tubs in Saline, Michigan
Independent Home Products, LLC makes and delivers walk-in tubs to match our Saline customers' every need. We offer many models and styles to choose from as well as honest and fair pricing on each and every one. No other walk-in tub company in Saline, Michigan offers the extensive features that Independent Home Products, LLC can.

---
Call for a FREE Quote
---
Just some of the special features of Saline walk-in bathtubs:
Power speed drain: Your tub drains in 1-2 minutes
Safety grab bars
Slip-resistant tub floor
Customizable hydrotherapy jets
Heater: LED control adjusts the temperatures
FM radio
Chromotherapy
Ozone cleaning system
Sizes! Many sizes, including wider models and small models for shower stall installations
Wheelchair accessibility
Lifetime warranty
1 Day installations
---
Call for a FREE Quote
---
Our Line of Walk-in Bathtubs for Saline Residents
Celebrity Walk-in Bathtub
The celebrity is designed to perfectly fit into your existing shower stall or previous tub space. Enjoy the comfort of bathing independently in your home with the Celebrity Walk in Bathtub.
Features:
Inward Swing 16" - 18"
Chair seat height 17"
Hand-held shower head included
Beautiful chrome finish on fixtures
Conventional Walk-in Tub
Weight: 175-285lbs
Access Walk-in Bathtub
The Access is the only wheelchair accessible walk-in bathtub on the market today. Simply roll up to the walk-in tub, open the door and slide onto the seat. All control are within easy reach. An aluminum safety grab bar is conveniently mounted in the interior of the tub. Quick draining system.
Features:
Outward Swing 34"
Fits any standard bathtub opening
Wheelchair Transfer
Holds 350lbs

Acrylic Deluxe Walk-in Bathtub
This deluxe walk-in bathtub features an acrylic finish that provides strength and luster. The mobility Handicapped Model comes with additional features, including air and water spa jets, temperature-controlled heater, FM radio, Ozone cleaning system, mood lighting and more!
Features:
Inward Swing 18"
Hot Sub Spa Amenities
Holds 300lbs

Supreme Walk-in Bathtub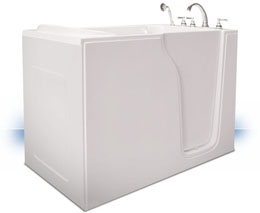 Our newest line of walk-in tubs, the Supreme Walk-in Bathtub is perfect for anyone looking to regain independence while bathing while relaxing in a luxurious tub.
Features:
Inward Swing 23.5"
Full Figure Size
Holds 225lbs
Freedom Shower
Some of our customers prefer a shower to a bath, but still require handicapped accessibility. The freedom shower is designed with safety and comfort in mind. It comes standard with a comfortable seat and shower head, low profile threshold and slip-resistant floor.
Features:
No Door
Low Threshold
Nonslip floor
Molded Shower Seat
Holds 285lbs
Royal Walk in Bathtub
The Royal Walk in Bathtub features a powered contoured seat that is raised and lowered to the base of the tub with the push of a button. The Royal allows residents the comfort of a traditional bath, while removing the hurdle to get in and out of one.
Features:
Inward Swing 15"
Power Lift Model
Holds 200lbs
Cube Walk in Bathtub
Yes, you do have room for a walk-in tub! The Cube fits into a standard shower stall space. It comes with 12 optional air whirlpool jets for a heavenly bath. Comes standard with slip-resistant floor and a built-in seat.
Features:
Outward Swing 21"
Compact Size
Holds 200lbs

Imperial Walk in Bathtub
The imperial is our widest Walk in Bathtub. Made for fuller figured customers or those who want extra room to bathe. These tubs can hold persons weighing up to 500 pounds. Extra high wall allow for a deep soak. Luxuriate in this 16 jet hydrotherapy spa!
Features:
Outward Swing 25"
Bariatric Size for Full Figure
Holds 500lbs

*All of our walk-ins are built to last a lifetime. Walls are reinforced with plywood to securely hold grab bars where they are needed.
The benefits of calling Independent Home Products, LLC for your Saline walk-in tub install are many! Our bathroom safety experts will outfit your bathroom with the latest and safest walk-in bathtub equipment on the market today. Our walk-in tubs allow for safe, independent bathing. Reduce the potential for falls while entering and exiting your tub. Independent Home Products, LLC's Saline walk-in tubs are perfect for folks with limited mobility or those in a wheelchair. Let Independent Home Products, LLC help to improve your quality of life and keep you bathing independently in your own home by installing a walk-in tub. Call today for a free quote at (734) 985-2734.
---
Call for FREE Walk In Tubs Quote
Dial Area Code first please.
---