Walk In Tub Prices in Clinton, Michigan
Need Prices For a Walk-In Tub in Clinton, Michigan? So how much does a Clinton Walk-In-Tub Cost? This is a quick and easy question to answer once a trained Independent Home Walk-In Tub specialist is called to assess and measure your bathroom space. In-home estimates are free. There is no obligation to make a decision that same day, your Walk-In Tub price will be valid for 30 days from the date of the inspection. Independent Home Products, LLC will provide you with a quality walk-in tub and offer you affordable pricing to meet your specific needs.

---
Simply Call
---
Walk-In Tub Installation Benefits
Walk-in tub installation is a more cost-effective option than a full bathroom remodel. When it comes to remodeling projects, there is always the possibility of unforeseen circumstances that increase the overall cost of the project. Independent Home Products, LLC has put protective measures in place to give our customers peace of mind when it comes to our services. Independent Home Products, LLC offers a 1-year price freeze which includes all electrical and plumbing to your existing lines and ensures that you'll never pay more than your written quote. Call Independent Home Products, LLC (734) 985-2734 today for a free in-home consultation and quote for a walk-in bath tub in your Clinton home. We look forward to helping you get an accurate and affordable price for your Clinton Walk-In Tub.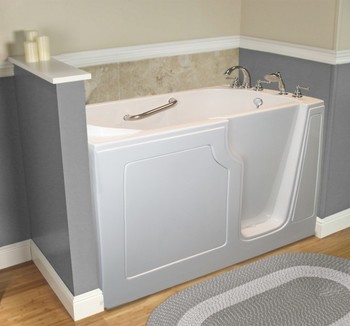 Some Things to Keep in Mind When Getting Quotes Are:
Does the company have a good reputation and reviews? How long has the company been in business?

How experienced are the technicians? How many walk-in tubs have they installed in their careers? Do the technicians specialize in walk-in tubs or are they general contractors who do a variety of work?

Can they provide you with any photos of their completed projects?

Is the product of good quality? What is the manufacturing process?

Is any demolition and removal of debris necessary for this project?

What features do you want your walk-in tub to have?

Is there a warranty available? If so, what are the terms of the warranty? Does it cover both the product and labor?
Quick Tips for Walk-In Tub Pricing
As you do your research on walk-in tub prices, there are some additional things to keep in mind.
Will the new walk-in tub fit into the existing space or will new walls need to be built? In some cases, new walls will need to be built and can be an additional cost in some cases.
Most walk-in tubs require a 50-gallon hot water heater because walk-in tubs are typically about twice the depth of a normal tub. Our specialist from Independent Home Products, LLC will discuss this during your written price quote, .
In order to avoid confusion once the project begins, make sure that you are aware of everything that your price quote covers.
---
Call for FREE Walk In Tub Prices Quote
Dial Area Code first please.
---